HARDWOOD FLOOR REFINISHING IN PHOENIX

Wood flooring is a natural product that can be prone to wear over the years. However, restoration, repair, and refinishing can bring new life and luster to your floor. When in need of a refinish, Urban Customs can help! Urban Customs is a professional hardwood floor restoration and refinishing company. Offering services to fix water damage, deep scratches, worn areas, gaps, cracks, sun shading, termite damage, and much more.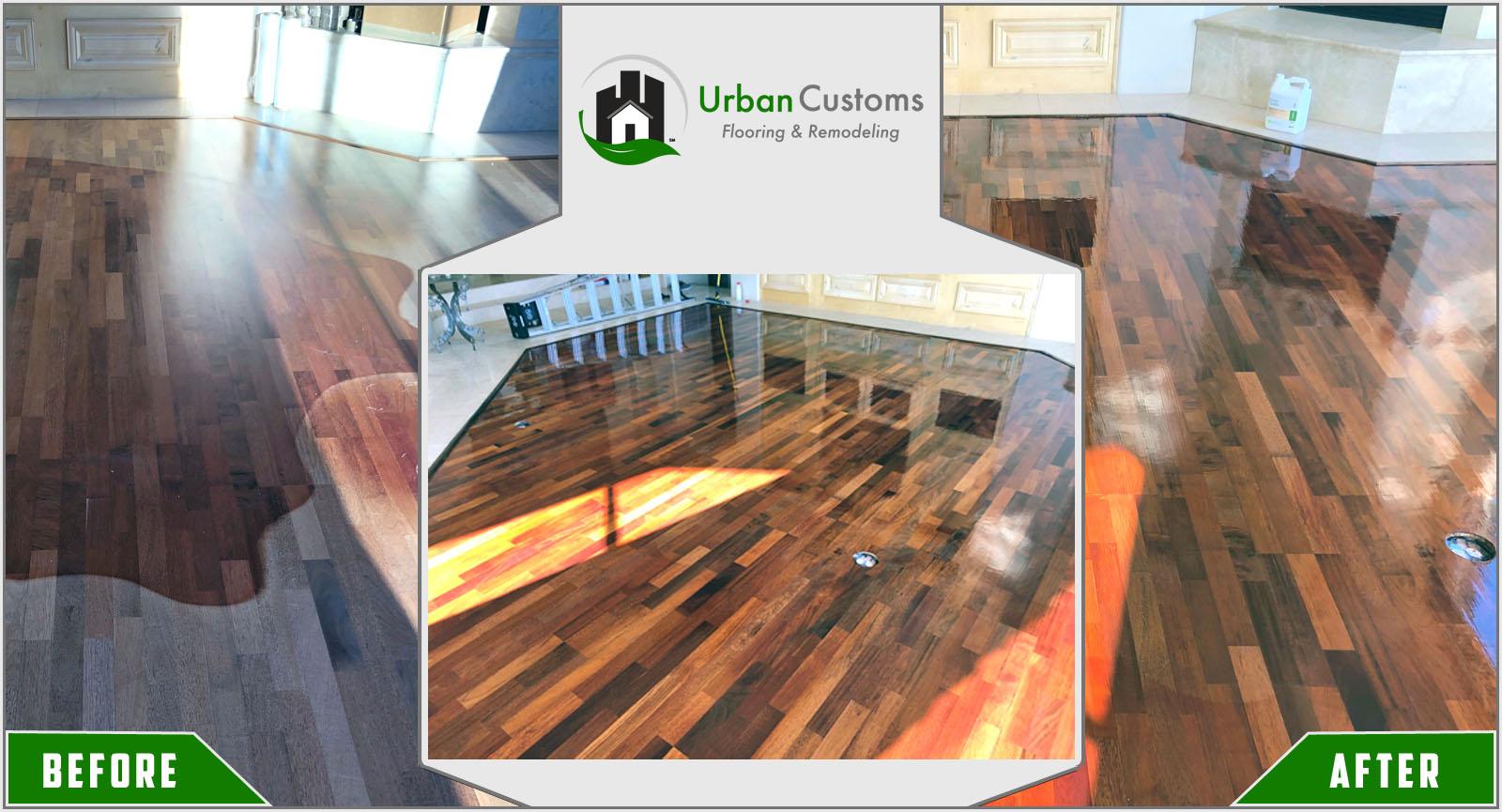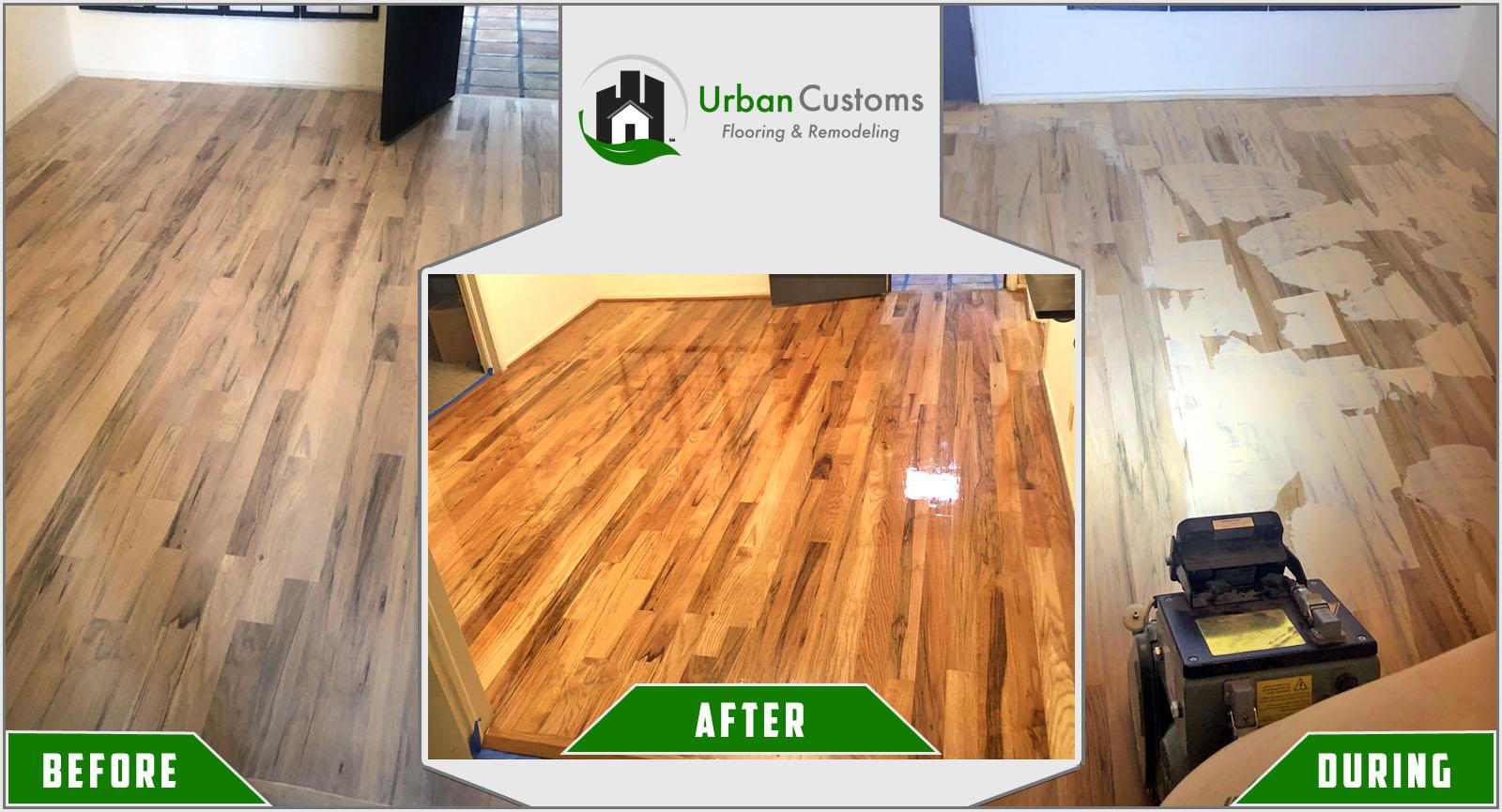 Should I Refinish My Hardwood Floors or Replace Them?
Hardwood floors look great and can last a very long time if they are cared for properly. There are times when a hardwood floor does need to be replaced like when the floor is too thin or water damage has warped the wood beyond repair.
If your hardwood floor is able to be refinished instead of being replaced you will save not only a considerable amount of money but also time as well. Scuffs, scratches, and other dings closer to the surface are able to be removed. Once sanding is completed, a stain or sanding sealer is applied. Finally, a waterborne finish is applied to beautify and protect your investment. This simple process of refinishing can save a significant amount of time and replacement costs.
How Much Does Hardwood Floor Refinishing Cost in Phoenix?
The average cost to refinish hardwood floors is $3.75 per square foot with most homeowners spending between $3 and $5 per square foot to have their wood floors sanded, stained, and finished according to homeguide.com. The reason for this cost is due to the 4 step process. It starts with drum sanding & edging the floor. This is done to remove the coating and any minor damage to the hardwood planks. At this point, any planks beyond repair are replaced. Then a final pass with the drum sander. Followed by screening to smooth out the floor to accept stain. Once cleaned and vacuumed, the stain or sanding sealer is applied. Finally, a floor finish is pulled over the hardwood sealing the floor and building the finish to the desired sheen. Read more about hardwood floor refinishing costs.
Wood Floor Refinishing Without Sanding
Hardwood floor refinishing can be performed without sanding. Yes, you read that correctly! Our color transformation process makes your old hardwood floors look and feel like new again. All without the lengthy process of sanding and refinishing. This is a great option to add to the resale value of your home. Whether it's your forever home or your ready to show your home to potential buyers. This option will be saving you both time and money!
Wood Floor Refinishing Cost Factors
Materials and Tools
To complete a refinishing project; You will need a few larger tools. A drum sander, edger, buffer, and the appropriate sandpaper for each machine. Since it is cost-prohibitive to purchase them for a DIY project, we recommend renting. Other tools like; An orbital sander, scrapers, vacuum, wood filler, glue, rags, sandpaper, and small hand tools are needed. At this point, if your feeling like taking on sand and finish, Go for it! If at any point, you have  reservations, give us a call. We would be happy to do an inspection and consultation. The consult will determine the cost and time needed to restore your floor to its original glory.
Coatings
While polyurethane has been the most common finish applied in the past. There are a wide array of options on the market now. From waterborne or oil-based finishes to catalyst-cured and now UV cured finishes. A waterborne sealant (aka catalyst-cured) will dry faster, provide a clear seal, and cure in 3-5 days. Polyurethane finishes add an amber tone and take roughly 24 hours to dry and 7 days to fully cure. Another option for floor finishes are UV cured finish. Yep, thats right, a light is passed over the finish and VIOLA cured finish!
Labor
If you do this as a DIY project, there are no labor costs to be worried about. You could save some money by doing it yourself. However, if you're not confident in your new DIY overalls, we would be happy to send out the professionals.
Cleaning & Buffing Hardwood Floors
Hardwood floor cleaning and buffing is an inexpensive way to bring back the life of your old hardwood floors. We will happily remove any residue, polish, wax, and oils that have built up on your floor over the years. This process is usually finished in less than 24 hours also making this more time saving than other floor restoration options!
Screening & Recoating Hardwood Floors
If your hardwood floors require a more intense restoration. Consider screening and recoating your hardwood floors. This is a great option to remove scratches or other light damage from high-traffic and worn out areas in your home or business. You can choose from a wide selection of finish options to best fit your need. As well as what sheen looks best, ranging from a high gloss to a matte finish. This a great cost-effective option versus removal and replacement.
It doesn't matter if your floors need repair or refinishing because of peeling, water-damage, or sun-shading Urban Customs can help!
Our Phoenix, Arizona Service Area Includes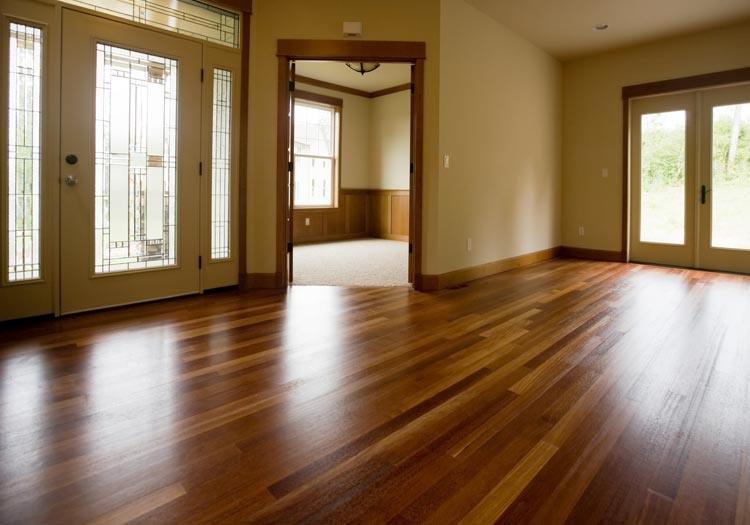 We offer hardwood flooring repair, restoration and refinishing in the following areas of Phoenix, Arizona:
Phoenix
Glendale
Peoria
Surprise
Sun City
Scottsdale
and more
No matter what the issue is with your floor. Urban Customs is here to help! From repair to refinishing to replacement. We can help with all your flooring needs!
Never Hire Cheap Wood Floor Refinishing Companies Ever Again!
A poorly maintained floor can have long-lasting issues. Starting from the improper application of the finish coat, to debris, flashing, and peeling finishes. These issues can arise from not using the correct sealer for the floor or having inexperienced contractors performing low quality work. A once beautiful hardwood floor that was maintained improperly can lead to a floor that is beyond repair, leaving the only restoration option to be a full-blown replacement. With over 20 years of flooring experience in the Phoenix Valley let Urban Customs save you time and money by doing the job properly the first
time!
Urban Customs Offers Floor Refinishing In Phoenix
If you are interested in receiving a hardwood flooring refinishing quote in the Phoenix area, give Urban Customs a call today at 1.800.401.3690.
LET URBAN CUSTOMS TAKE CARE OF ALL YOUR FLOORING NEEDS!