Hardwood Flooring Pros & Cons
Hardwood Flooring PROS – Hardwood flooring is easy to maintain, ecologically friendly, natural, and durable. Hardwood flooring is also great for refinishing. Hardwood Flooring CONS – Even though it's durable, it may still get scratched over time and can be susceptible to water.
Hardwood is a natural flooring cover material that is similar to hardwood flooring. It has plenty of positive benefits like hardwood floors, as well as vulnerabilities and drawbacks. The more that you understand about this hardwood, the better informed you will be whenever you make maintenance or purchasing decisions.
Hardwood Flooring Pros & Advantage
The pros and advantages of hardwood flooring include:
Pro: Timeless Flooring
Do you ever think about why people love hardwoods so much? Perhaps it's because hardwood flooring exceeds time and trending styles. That is why a lot of homeowners usually want to pay more for the appearance.
Pro: Can Be Refinished
Yes, hardwood floors can be damaged. But they can be restored to their original glory with the help of a professional floor refinisher, such as Urban Customs.
Pro: Durability
Hardwood flooring is particularly durable. A lot of hardwood species can take a lot of foot traffic despite its good looks. Cherry and Oak are great choices for this reason.
Pro: Allergy-Friendly
If you have a hard time with allergies, you will be glad to know hardwood repels a lot of allergens. For people with asthma, hardwood flooring makes a great flooring choice. Hardwood flooring is easy to keep germ free, even when you have little ones that spend a lot of time on the floor.
Pro: Low-Maintenance
Yes, you will probably need to sweep, have a Roomba, or use a hardwood floor vacuum a couple of times a week. It's a good idea to damp mop the floor regularly to keep them clean. Hardwood floors are one of the easiest floors to maintain. It's also a good idea to upkeep them from day one. Use mats for pet dishes and coasters for furniture to prevent scuff marks.
Pro: Adds Value
Hardwood flooring offers an excellent return on investment. It is cost-effective and adds value to your home, even slightly damaged. Appraisers will look at the material used in your home and a hardwood floor will increase the selling price.
According to HomeGuide, "Hardwood flooring costs $6 to $11 per square foot to install on average, with high-end prices ranging from $12 to $23 per square foot for both materials and installation."
Pro: Natural Looking
Hardwood flooring is inviting to the eye. It's natural tones, the texture, and grains work hand in hand to enhance the ambiance of your home. For open floor plans, think about wider planking and rich, deep color. Not only will this combo make the area appear bigger, but it also allows for easy flow and a more uniform look.
Pro: Eco Friendly
Because wood is a renewable resource, it's favorable with eco-conscious builders and contractors. Actually, a lot of trees are replaced instantly upon harvesting, to help hinder deforestation.
Hardwood Flooring Cons & Disadvantages
The cons and disadvantages of hardwood flooring include:
Con: Expensive
Depending on the species, size and finish you decide on, hardwood flooring can be a considerable investment. It's not uncommon for planks to run upwards of $15 per sq. ft.
Con: Noisy
Hardwood flooring will make a little noise like most flooring, with the exception of carpet. Hardwood may increase the sounds in the area, and it does amplify the acoustics, but tile does too. Unless you're having dance classes in your living room, noise is not a huge downside to hardwood flooring.
Con: Can Be Cold
Hardwood flooring is warmer than stone or tile, but it may feel cold in the colder months. The temperature can be especially unpleasant for aging adults or people that suffer from joint pain.
Con: Water Damage
Hardwood is not ideal for wet areas such as bathrooms and basements. Because of this, liquid might seep between the planks and cause warping and blotchiness.
According to FloorCritics, "If you choose to install wood in a damp area, be sure to lay a vapor barrier beneath the boards and monitor the room's humidity level daily."
Con: Hard
Wood floors are not that comfortable under your feet. They don't take pressure or contract like cork or carpet flooring. Maybe you have kids that are just starting to walk, wood flooring will not supply padding and can result in some bumps and bruises.
Con: Scratches
Those that own hardwood flooring, know that scratches and scrapes will happen. And when they do, your floors will most likely tell the story. But unlike a lot of other floor coverings, wood flooring can be refinished.
Con: Flooring Installation
Installing solid hardwood is not a do it yourself project. And skilled flooring contractors are far from inexpensive. But if you have little or no experience installing hardwood floors, professional installation is usually needed.
Hardwood Flooring Installation in Phoenix, Arizona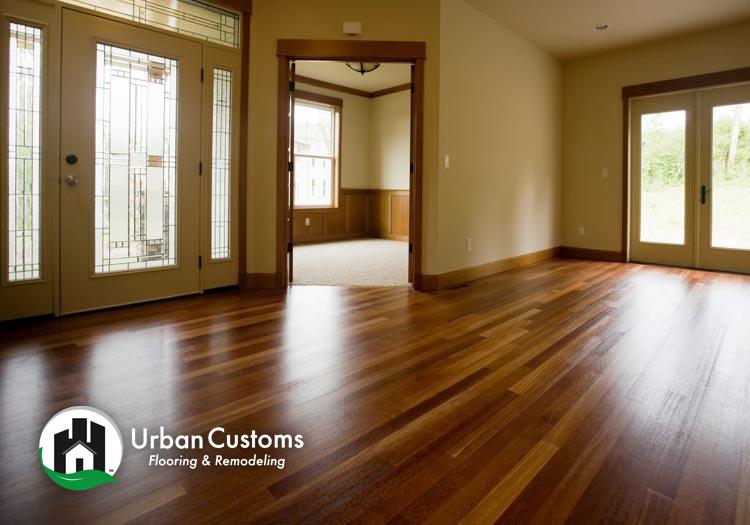 Hardwood flooring has more pros than cons and is a great choice for flooring installation or replacement. Urban Custom offers hardwood flooring installation in Phoenix, Arizona. If you are interested in receiving a free hardwood flooring quote anywhere in the Phoenix Valley, give Urban Customs a call today at 1.800.401.3690. We offer free hardwood flooring quotes to the entire Phoenix Valley including Phoenix, Chandler, Gilbert, Mesa, Tempe, Scottsdale, Glendale, Peoria, Surprise, and more.