As homeowners everywhere search for alternatives to traditional hardwood, the bamboo flooring option continues to spike in popularity. This flooring is extremely tough and durable, making it a new favorite across American kitchens and bathrooms. Let's take a look at bamboo flooring cost and the many benefits this option offers homeowners.
Bamboo Flooring Cost Breakdown
Of course, two costs will be associated with bamboo flooring: the actual purchase of the product plus installation. Flooring is typically priced by square footage, while installation goes by total area and labor costs. The average cost of materials will come to about $480 for a 125-square-foot area. Add in a typical $500 installation charge, and the total should come out just below $1,000. Average installation cost for a larger, 200-square-foot room is just over $1,500 total.
There are a numbers of factors that will affect the overall cost of installation. The pre-existing flooring that needs to be removed can offer challenges and a longer process for installers. Keep in mind the condition of your current flooring when trying to estimate expenses. Existing moldings and baseboards will result in higher installation costs. Generally, a sealant will be required post-installation for the bamboo flooring. The average cost of the sealant is $40.
Here's a breakdown of bamboo flooring costs, per square footage:
Lowest cost: $1.49–$2.99
Average cost: $2.19–$5.00
Highest cost: $3.59–$7.68
Benefits Of Bamboo Flooring
First and foremost, this is an eco-friendly choice for flooring. Bamboo plants can regenerate in as little as 5 years. Hardwood trees can take more than 30 years to fully regenerate. Bamboo is readily available, and will not impact the ongoing destruction of rainforests all throughout the world. It's a flooring option that you can truly feel good about! Durability, as mentioned before, is a main benefit of bamboo flooring. This durability is a big reason why bamboo becomes so affordable over time. Installation is also a breeze. Professionals can quickly install bamboo, giving your home a new, breathtaking look. If that isn't enough for you, it must be noted that this one is one of the lowest-maintenance flooring options on the market today. Unlike hardwood, bamboo may never need to be refinished because it is so durable. It is also moisture resistant, which is perfect for young families that may be prone to spills and accidents in the kitchen area.
To recap, here are a few bamboo flooring benefits:
Easy installation
Eco-friendly
Affordable
Bug resistant
Unique looking
Low maintenance
Free Bamboo Flooring Quote
If you live in the Phoenix, Arizona area, you can receive a FREE bamboo flooring quote by contacting Urban Customs today! Call them at 1.800.401.3690. Urban Customs proudly serves the entire Phoenix valley, inclduing Phoenix, Chandler, Gilbert, Mesa, Tempe, Scottsdale, Glendale, Peoria, Surprise and more!
Bamboo Flooring Installation in Phoenix, Arizona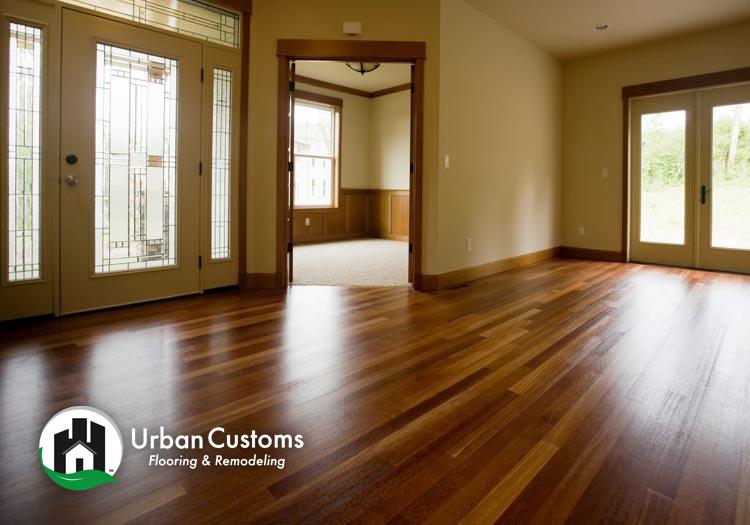 Bamboo flooring has more pros than cons and is a great choice for flooring installation or replacement. Urban Custom offers bamboo flooring installation in Phoenix, Arizona. If you are interested in receiving a free bamboo flooring quote anywhere in the Phoenix Valley, give Urban Customs a call today at 1.800.401.3690.We offer free bamboo flooring quotes to the entire Phoenix Valley including Phoenix, Chandler, Gilbert, Mesa, Tempe, Scottsdale, Glendale, Peoria, Surprise, and more.